Benvenuti a
Italy Made Easy!
We're so glad you're here!
Have you always dreamed of speaking Italian?
Have you tried every other Italian course, app and program out there but find that they fail you time and time again?
If you have ever struggled to learn Italian by other means and have been left feeling disheartened and discouraged, then look no more.
Italy Made Easy is the solution you have been waiting for!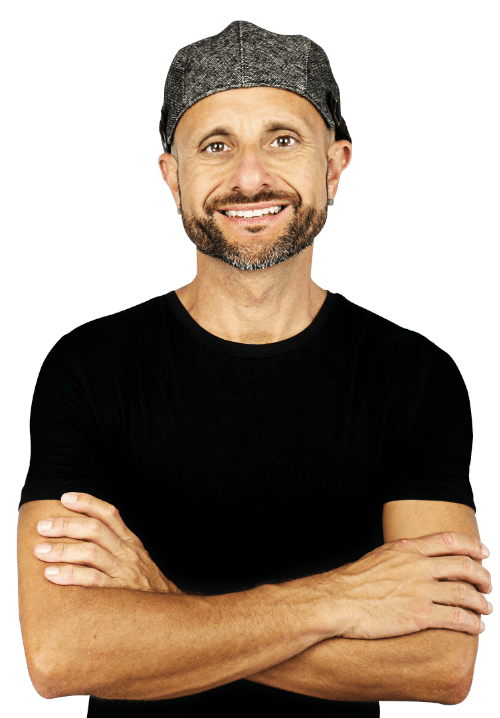 Italy Made Easy was born of humble beginnings, with just a few simple but informative video lessons published casually on Youtube by yours truly, Manu Venditti.
Without realizing it, these few videos on Youtube were incredibly popular and ended up reaching hundreds of thousands of people in only a matter of months.
I realized I was onto something…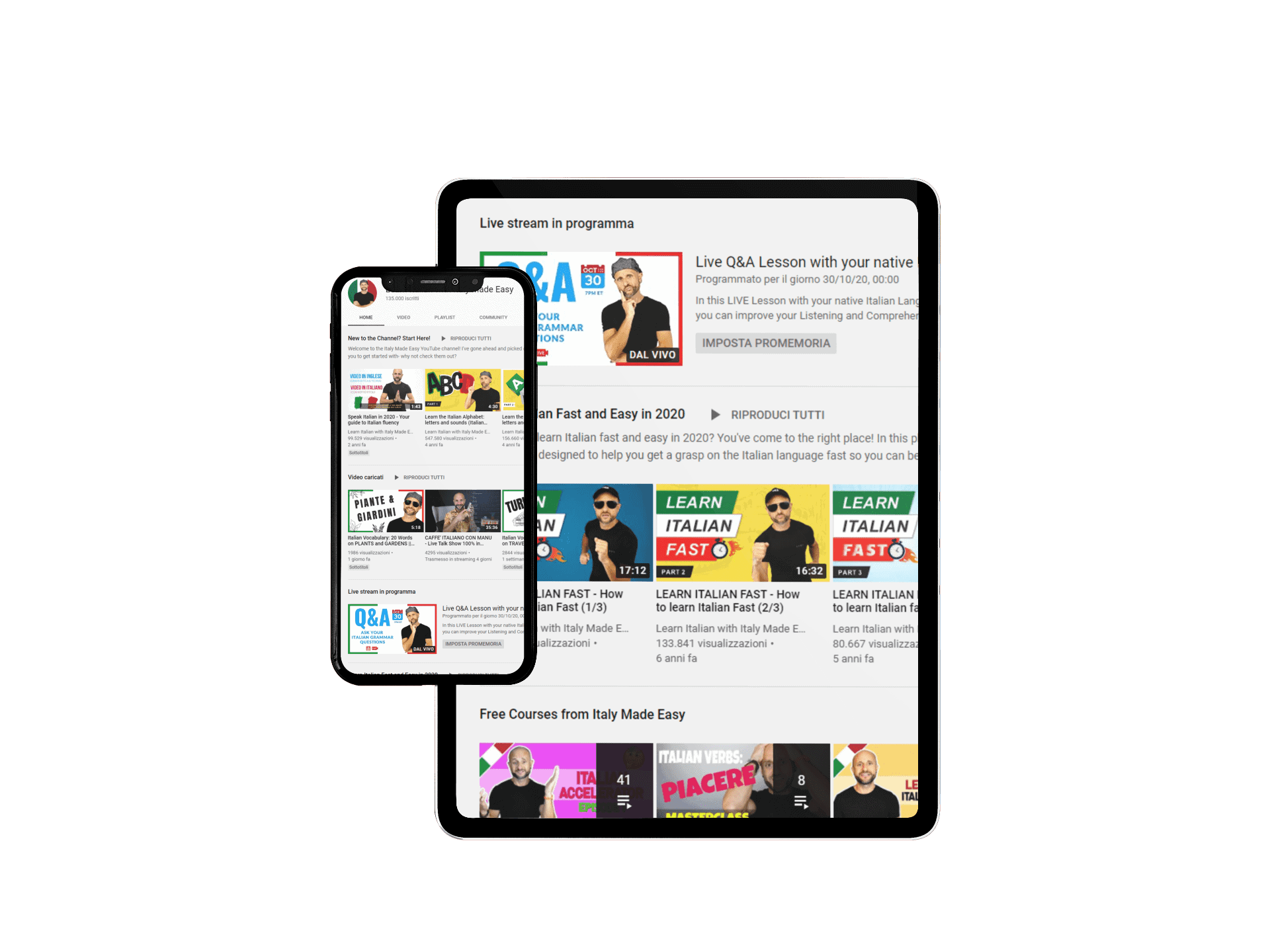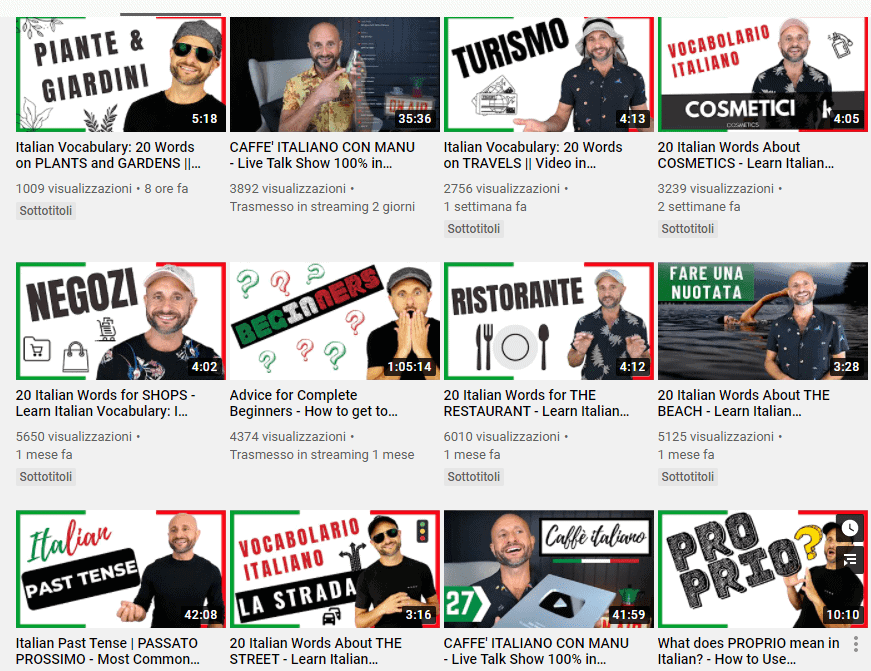 There was a huge demand and thirst for educational Italian content that was presented in a simple and clear way, using English to explain complex grammar concepts, typical expressions and aspects of Italian culture that had previously baffled learners of Italian for far too long.
Italy Made Easy quickly grew, thanks to the commitment and drive of its students, with whom we all share a common passion – the breathtaking country of Italy, the beautiful Italian language and the fascinating Italian culture.
We now have a community of tens of thousands of students, all united by their love for Italy and all things Italian. This community also share a common goal – to learn, improve and master the Italian language.
Our ultimate mission at Italy Made Easy is to help you, as a passionate student of Italian, successfully achieve your Italian-learning goals, whatever your level and to immerse yourself in the Italian culture and all things Italy.
How will Italy Made Easy Help You Finally
GET Italian?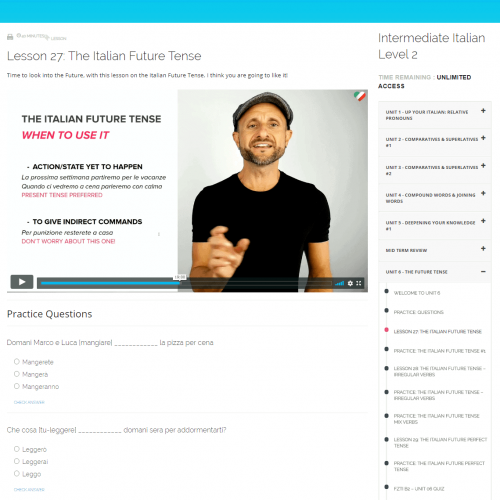 At Italy Made Easy we help you succeed where other courses and programs have failed you.
Other Italian learning methods focus too heavily on drilling in grammar rules (or ignore it altogether!) and memorizing set phrases.
While we do provide excellent lessons on grammar, our focus at Italy Made Easy is COMMUNICATION – actually learning how to speak Italian, to be understood and to understand Italian when you hear it spoken!
Every single piece of content and resource presented to you by Italy Made Easy has been carefully thought out and designed to be as useful as possible to you.
Here's what you can achieve with
Italy Made Easy:
With Italy Made Easy, you can achieve all of this and more. We help you learn, improve and master the Italian language through an extensive variety of courses, content and resources delivered across a range of online platforms.
Here's what you can achieve with
Italy Made Easy:
With Italy Made Easy, you can achieve all of this and more. We help you learn, improve and master the Italian language through an extensive variety of courses, content and resources delivered across a range of online platforms.
How Italy Made Easy delivers Italian to
YOU
?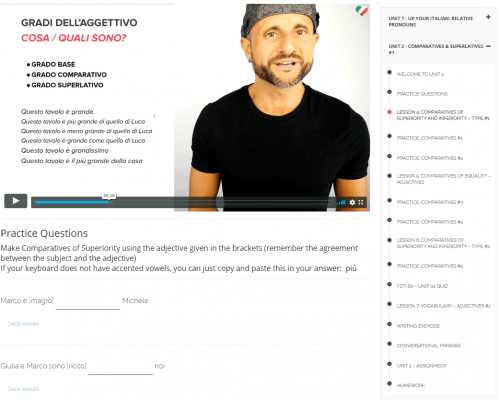 Our Italian courses are at the centre of everything that we do. This is where students achieve the most success with their Italian goals as all of our courses are specifically designed with your success in mind. 
Our "hero" Italian program is " From Zero To Italian ">" – a revolutionary series of courses designed to take you from zero – not knowing any Italian – to fluency. 
Our ground-breaking Learning Programs built around an original Audio Novel in Italian are designed to take your Italian Listening and Comprehension skills to the next level. 
Invest in yourself: 12 week programs to achieve full comprehension of our audio novel: dialogues, vocabulary, colloquial expressions and even regional accents!  
Develop a more natural Italian and learn to understand casual, spoken Italian better.
Italy Made Easy Youtube Channel
The Italy Made Easy Youtube channel was where it all began! There you will find a ton of educational and entertaining videos covering all aspects of the Italian language, people and culture.
You'll find content on everything from essential beginner Italian right up to more advanced conversational level Italian. We also answer the most frequent questions asked by students of Italian and address some common challenges and difficulties that they come across when learning Italian.
Subscribe to our channel now so you are among the first to know when we publish new videos or start a live stream!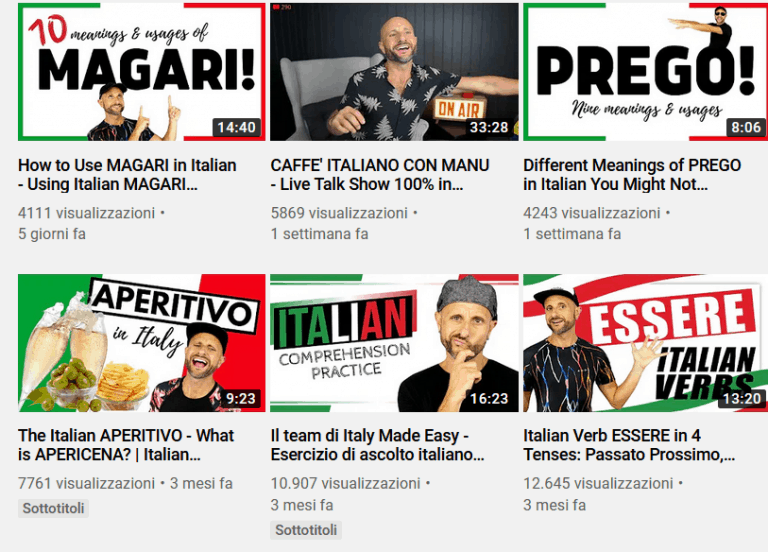 Italy Made Easy podcast is a great way to practice and improve your Italian listening and comprehension skills. This podcast is in 100% Italian – spoken at a slower pace, in clear and authentic Italian. It has been designed specifically as a learning tool.
Each podcast episode comes with a bonus
downloadable PDF with some super useful learning resources, including the full transcript and great comprehension exercises.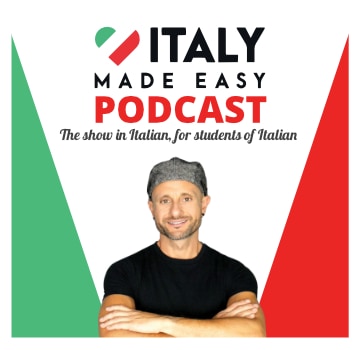 Italy Made Easy on Facebook
We regularly do Live streams on our Facebook page. 
This is a great opportunity for our students to get up close and personal with Manu and ask all those Italian-related questions you've been dying to know the answer to! 
Facebook is also another great way to stay up to date on all the latest content and happenings at Italy Made Easy.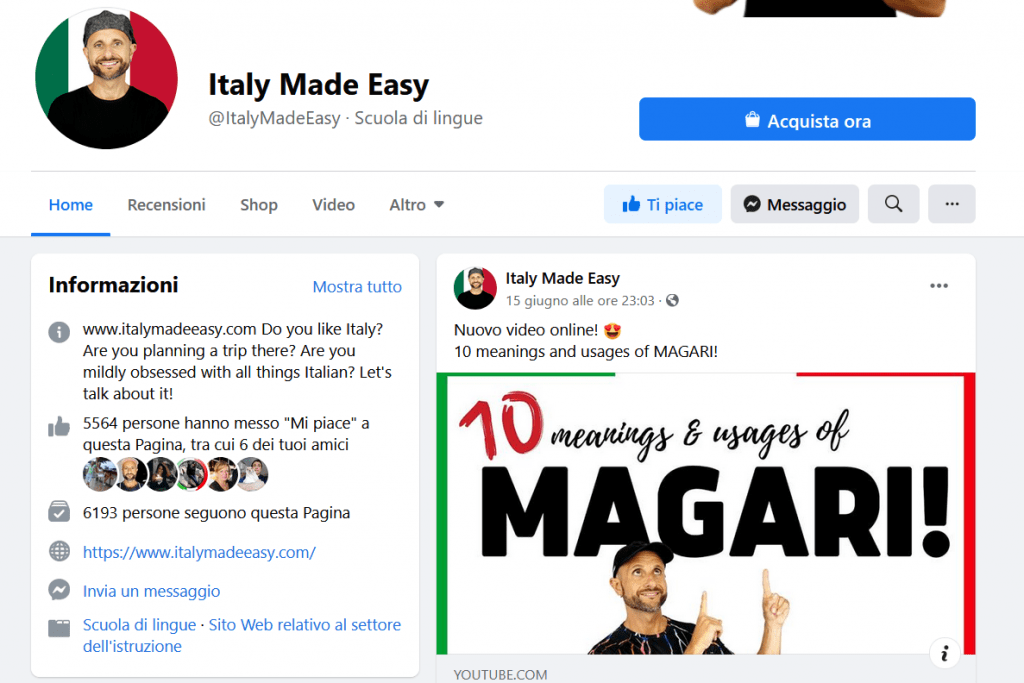 What do
current students
Of
Italy Made Easy Say?
mEET THE FOUNDER - MANU VENDITTI
Ciao, I'm
Manu Venditti
– the
Founder of Italy Made Easy
! Italy Made Easy is the online world I created to bring my beautiful language to students across the globe who love all things Italy, who want

to learn to speak Italian

and who dream of immersing themselves completely in the Italian culture. 
Whether this is your first time studying Italian, or you've tried to learn in the past with other courses, apps or teachers to learn Italian with not much success, here's why
you can trust me
, Manu,
to take you to Italian fluency!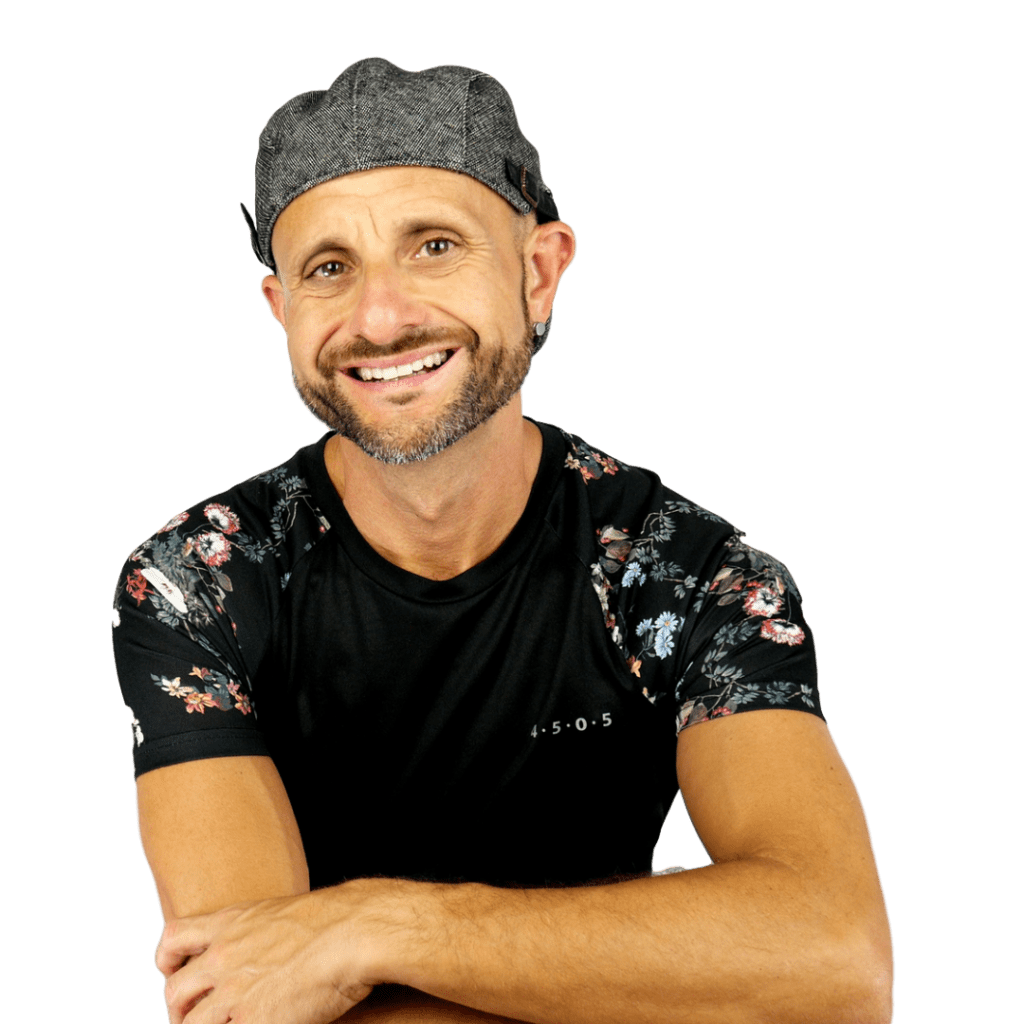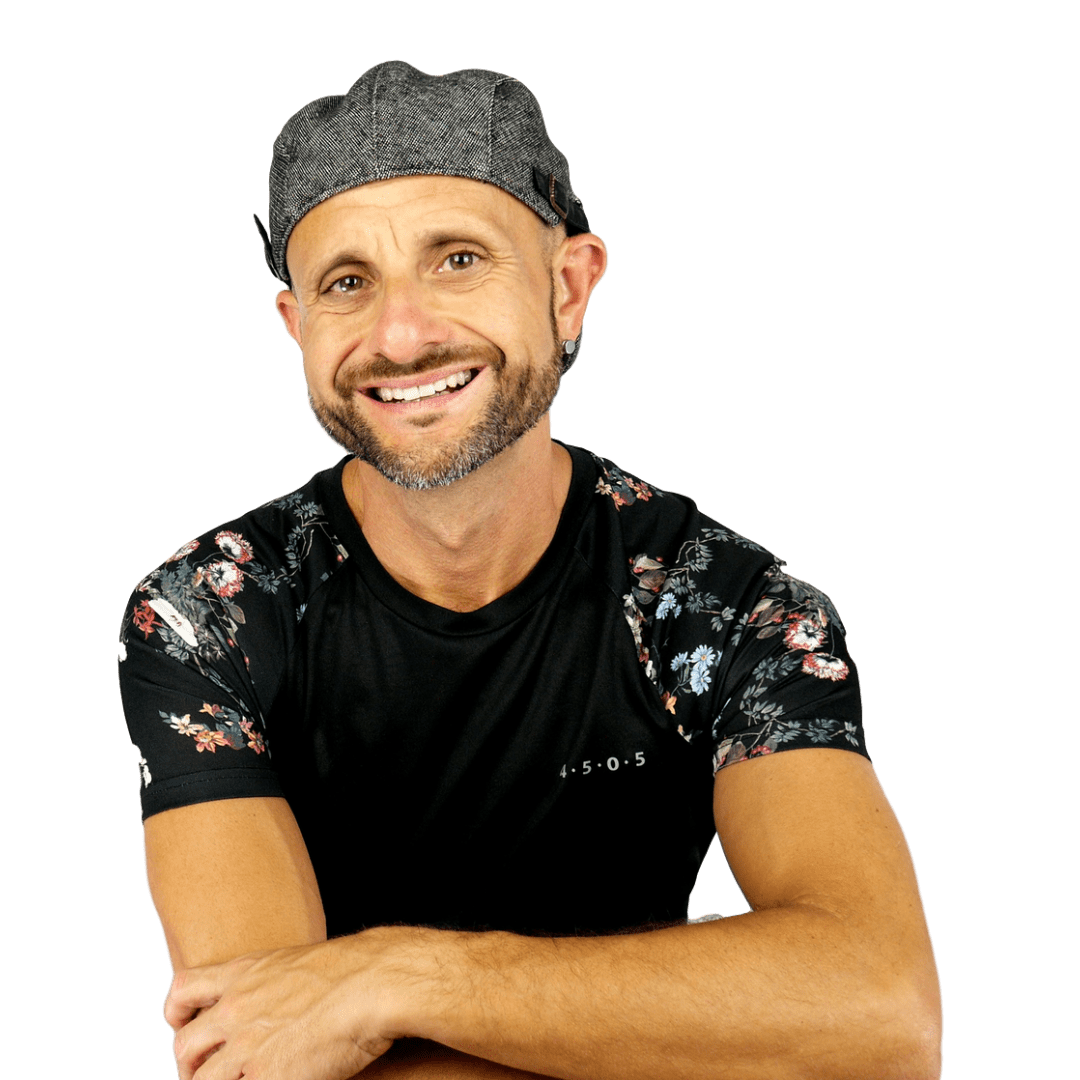 Our Mission and Core Values

Our Mission
: To help English speakers
learn
,
improve
and
master the Italian language
and to empower them to
feel confident
in
speaking
and
understanding
Italian.
These are Italy Made Easy's Core Values. We abide by these core values in everything we do – from dealing with you – the student, to other team members and when making decisions for Italy Made Easy, including in relation to the content we create for you.
1. EDUCATION GEARED TOWARDS COMMUNICATION
We strive to bring you the best Italian content and develop our courses in a way that always centered around the ultimate goal of speaking and understanding Italian. We want to teach you, as a native English speaker, what's really useful and necessary to effectively communicate in Italian. That is at the heart of everything we do here at Italy Made Easy.

2. INTEGRITY, HONESTY, RESPECT, INCLUSIVENESS
We will always deal with our students and our team members with integrity and honesty and in a respectful manner in all communications and correspondence. Italy Made Easy welcomes all people and encourages cross cultural communication, discovery and acceptance. 

3. KIND, SUPPORTIVE & ENCOURAGING
We know that learning a language isn't easy and that it can be very daunting. We want you to know that you are not in this journey alone! Our team is always available if you ever want to reach out. You will also be part of a kind, supportive and encouraging community of fellow students and we strive to foster this culture in every part of Italy Made Easy.

4. PERSONABLE & RELATABLE
We are a small, down-to-earth, passionate team, not a huge multi-national company. So you know that you are always talking to a real person. We all have names and faces that you will probably come to recognize. Most importantly, we don't treat any of our students or community as just another number – each one of you is important to us and your individual success matters to us!
5. FINDING SOLUTIONS, COURSES AND SERVICES THAT MATCH A STUDENT'S LEVEL & INTEREST
As stated, our top priority at Italy Made Easy is your success with the Italian language. That's why we will always do our utmost best to find and create the best solution for you based on your specific needs, interests and level.