Are you completely new to the Italian language?
Have you studied Italian previously but have ended up frustrated, lost or overwhelmed, with little to no results to show for it?
Do you want to begin your journey to fluency in Italian with the best start possible?
Then Beginner Italian Level 1 is for you!
Your journey to fluency in Italian starts here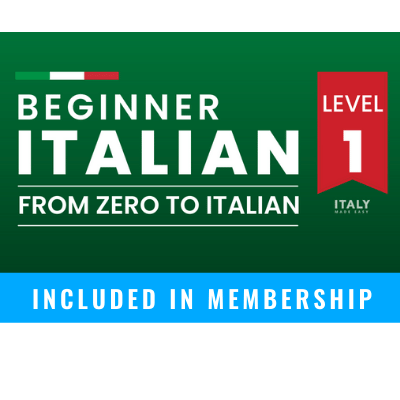 This course is the first level of our revolutionary Italian program

"FROM ZERO TO ITALIAN"
Beginner Italian Level 1 gives you the key, foundational basics of Italian and is expertly structured in a clear, logical and methodical way.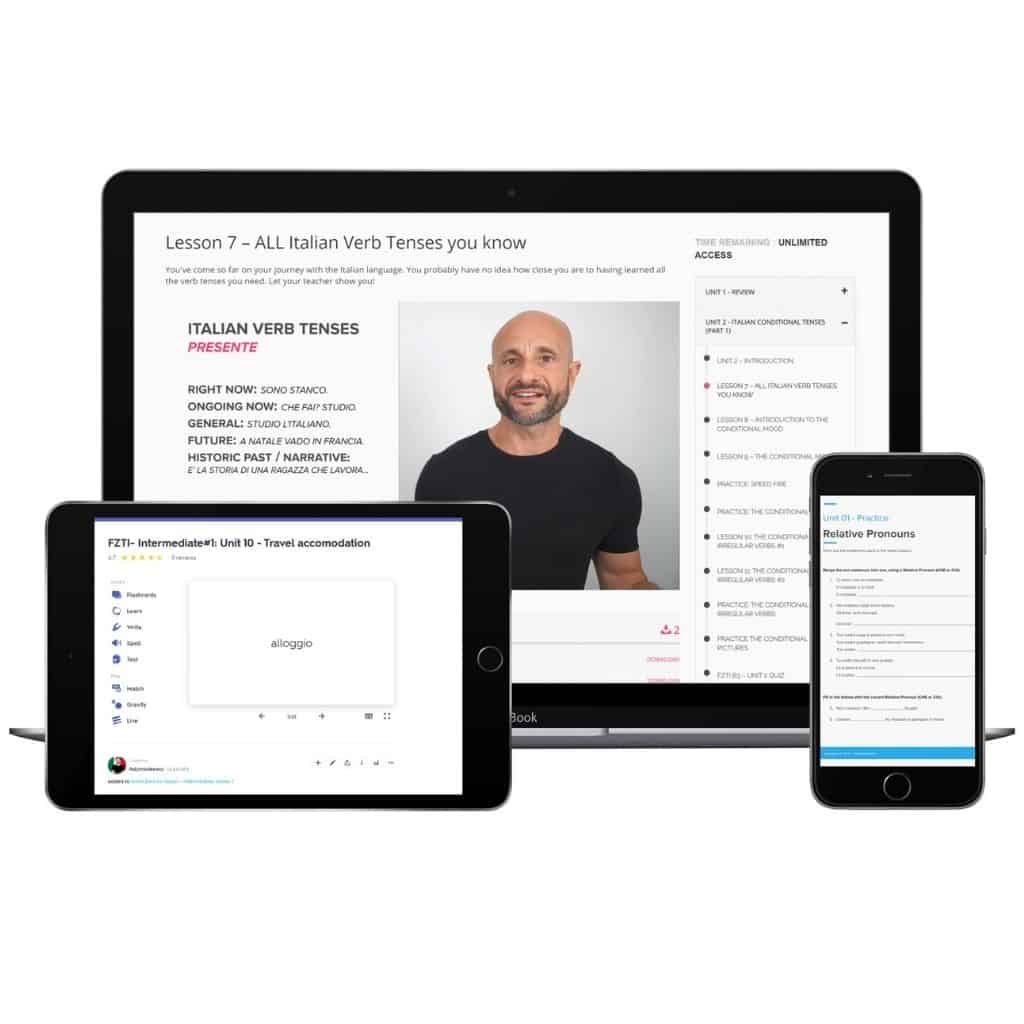 Our courses are designed to make you feel like you are learning Italian with a private tutor, in the comfort of your own home. 
Whether it's your first time or your fifth time trying to learn Italian,
 Beginner Italian Level 1 is the best place to start your Italian-learning journey!
Become an Italy Made Easy member now and get unrestricted access to all courses in the From Zero To Italian program.
Italy Made Easy is specifically designed for English Speakers

Manu's logical, innovative program has enabled me to learn verb conjugations, articles and adjectives, and nuances of the language in a way that no other approach has. He offers clear explanations in English, delves at times into the finer points of linguistics but never gets bogged down in the minutiae of rules, and encourages speaking and even thinking in Italian so that the student doesn't have to constantly try to translate in his or her head.
What students are saying about Italy Made Easy

What Do Yout Get In The Course?
Beginner Italian Level 1 is comprised of 14 units in total, with each unit made up of 7 – 10 individual lessons that focus on a specific topic.
The core lessons are in-depth and academic, but are delivered in a way that is easy and fun to follow.
In addition to these lessons, each unit contains a diverse range of fun and engaging exercises to complement the unit content and to practice and deepen your understanding of the topic. 
Practice lessons after each
primary lesson

Put into

practice and reiterate

what you have just learned in the main lesson​
Guaranteed to help you absorb the content thoroughly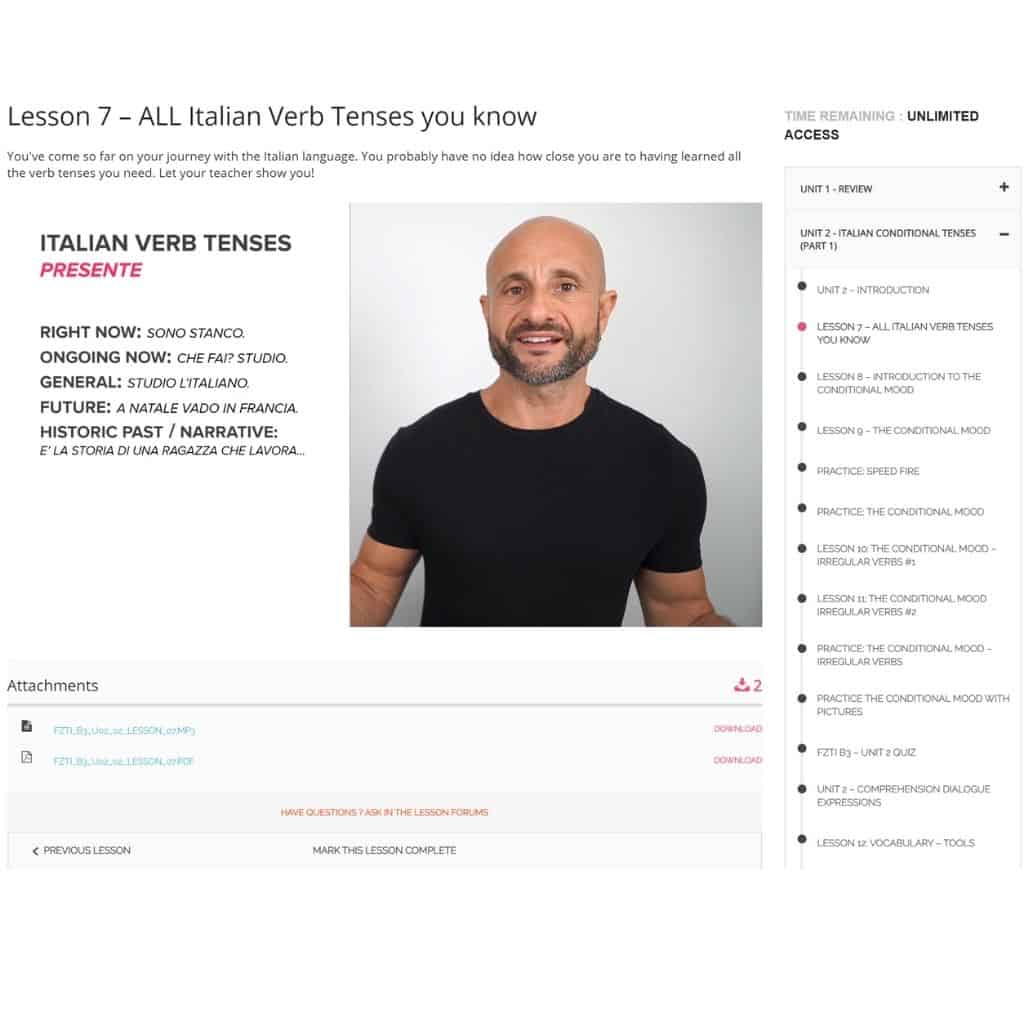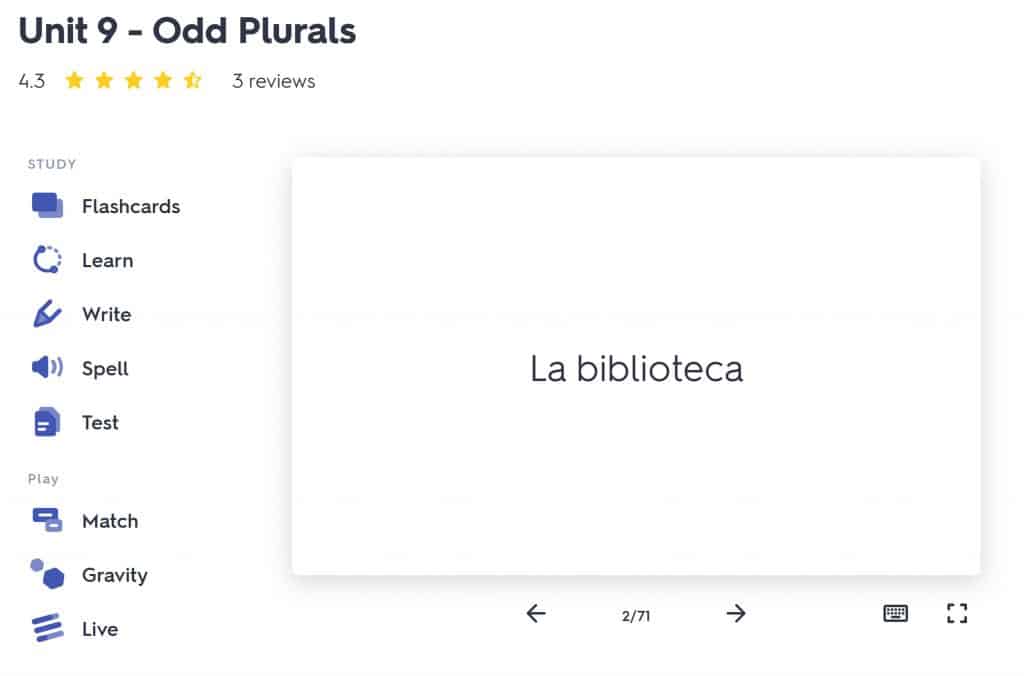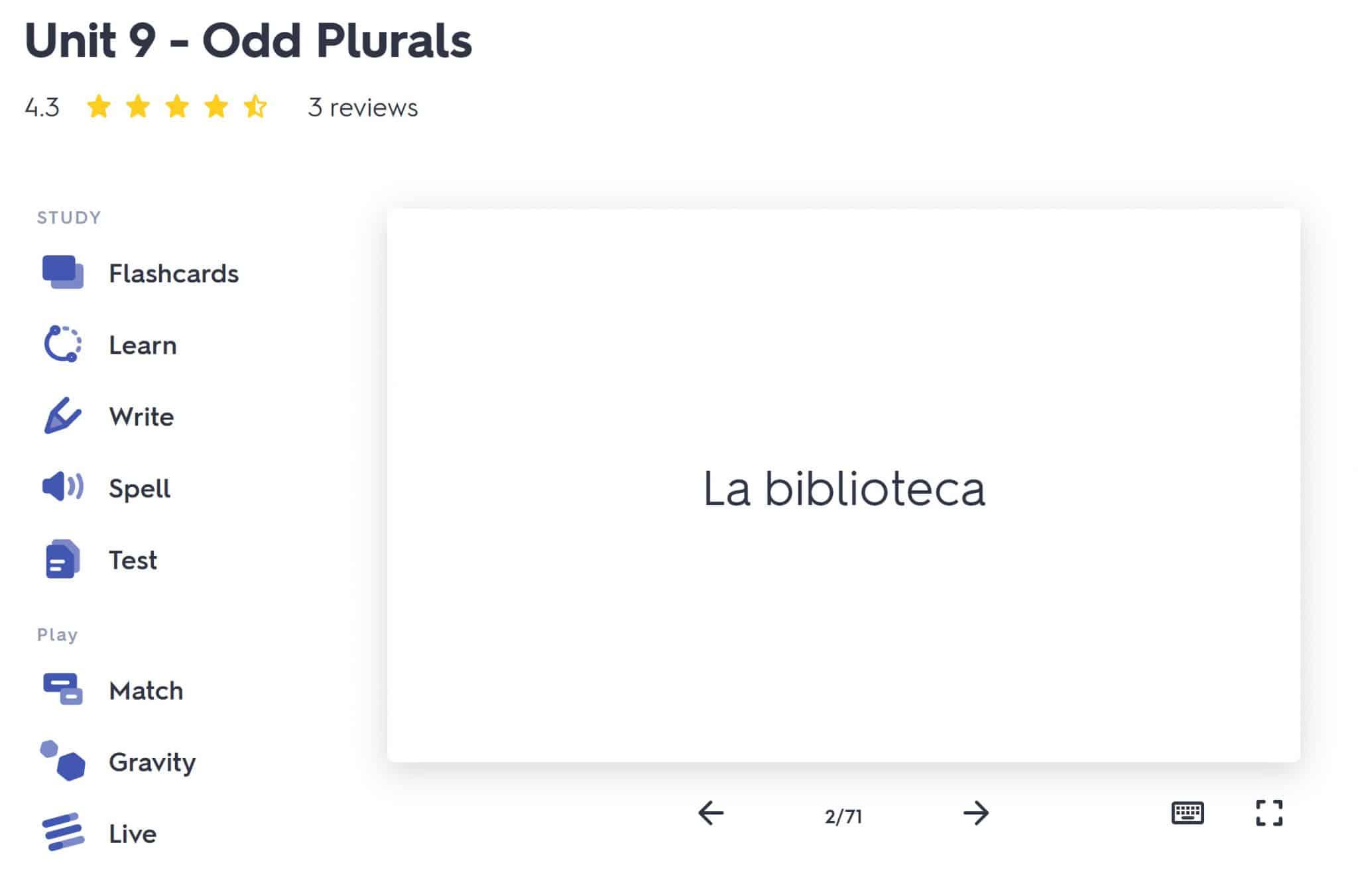 Interactive Vocabulary Flashcards
A fun way to memorize and recall the new vocabulary that you learn in each unit
Always accessible so you can practice your vocabulary anywhere, anytime!
Some of things I like about this program are, lots of different exercises, ability to learn at different levels, listening comprehension exercises with related pdf, lessons that address a variety of grammar issues, such as ce,ne, reflexive verbs, the two past tenses, being able to tune in at your leisure and jump into any exercise that interests you, listening comprehension exercises in slow Italian, a very personable instructor who is genuinely interested in your progress.
Our courses come with many additional materials

Listen to slowly-spoken Italian
and try to write down what you hear.
These exercises come with a translation as well as a literal word-for-word translation so you can compare the two languages to see how Italians think about the world and how they construct sentences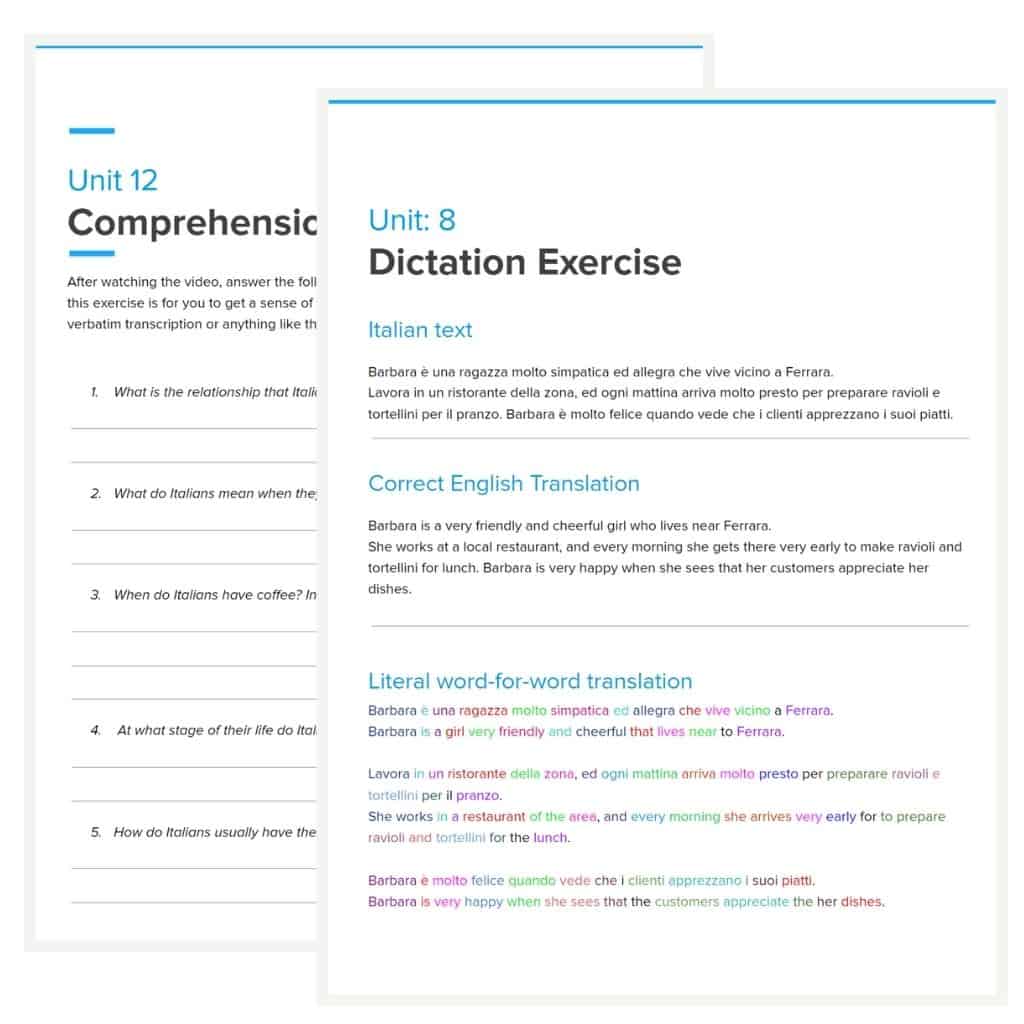 Listen to videos in Italian and answer some questions to test and improve your listening and comprehension skills of spoken Italian
Improve your Italian reading and translation skills by having a go at translating interesting texts from Italian to English
Since enrolling in the course I have been able to go step by step to learn the foundation of this beautiful language. The videos, shadowing exercises and other tools all contribute to a comprehensive approach to understanding and speaking . After failed attempts at a local college in a large group I finally feel that I am accomplishing my goals. Italy Made Easy has made it all come together for me . Manu is terrific and the courses offered exceed all expectations .
learn the basics of the Italian language step by step

Consolidate everything you have learned in the unit and
test your knowledge
. You will get an instant evaluation and will see your mark immediately!
Detailed explanations of the correct answers are also provided for each question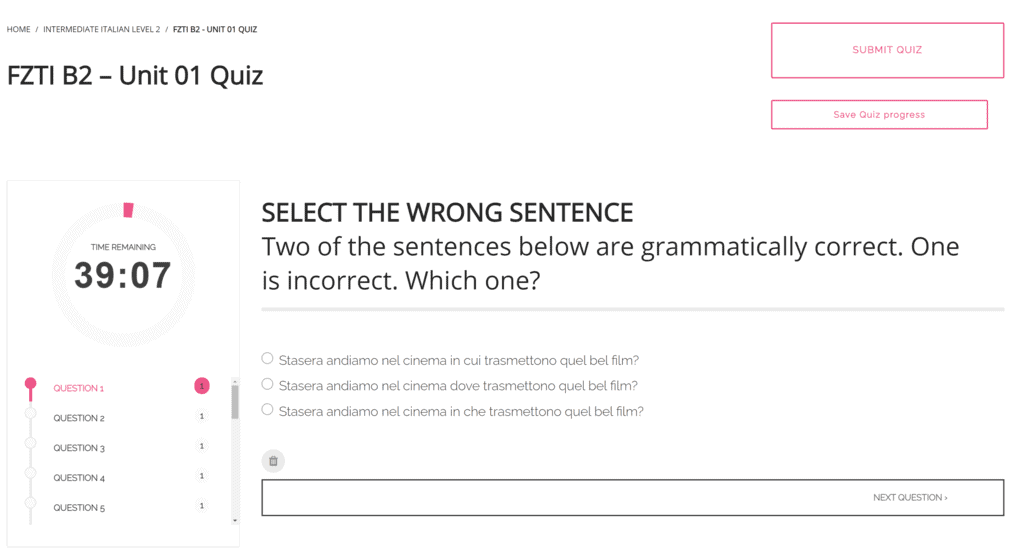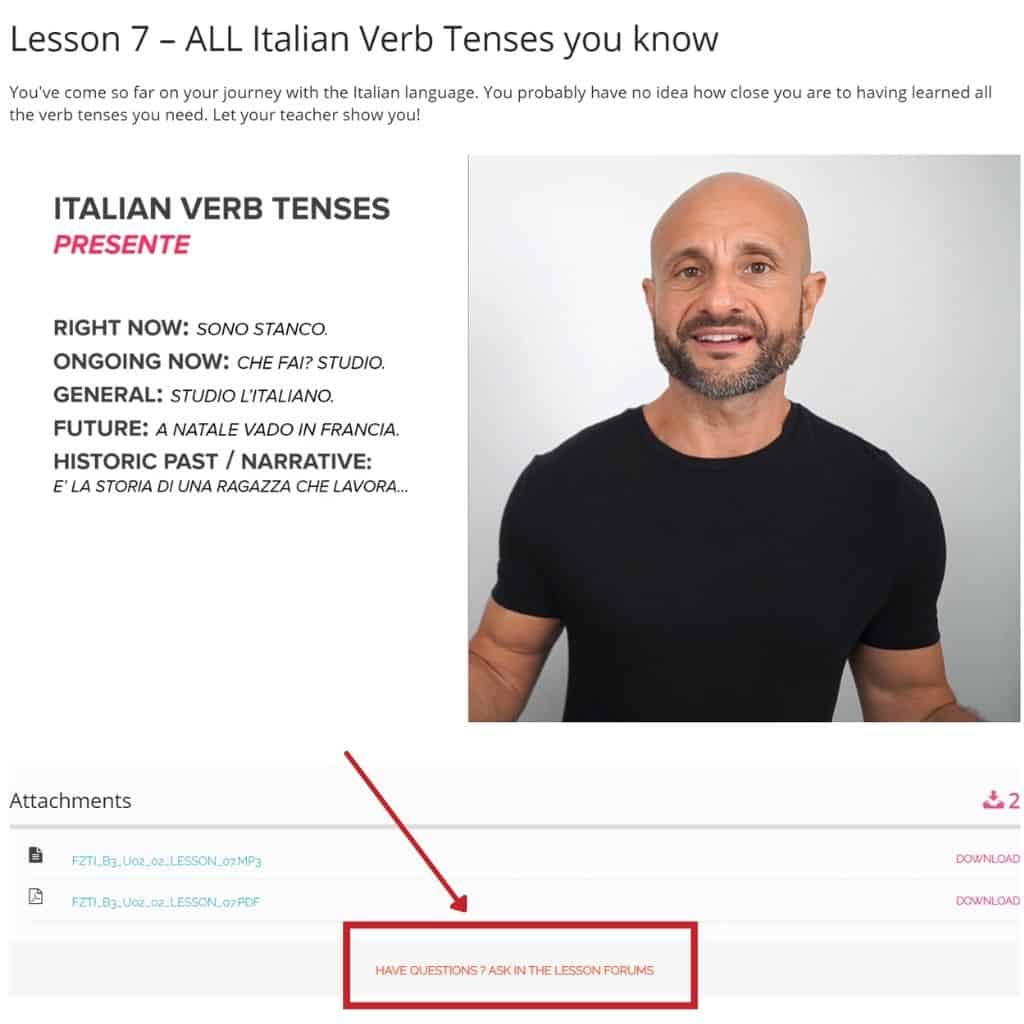 Direct access to our team of friendly

native Italian experts
.
Dedicated forum for each lesson where you can ask questions about the lesson content or and share tips.
Most importantly of all – Our courses in From Zero To Italian focus on what really matters:
Understanding Italian and being able to actually speak it!
The knowledge and skills you gain in Beginner Italian Level 1 will give you
the best possible foundation to start your Italian-learning journey, taking you towards your ultimate goal of fluency!
You will feel much more confident after having completed this course and be amazed at your progress. 

Detailed explanations on how the Italian language works

Exercises dedicated to the practice of the Italian language

14 Flashcard sets to learn more than 250 new words
Not sure about your level?
When participating in the course and its units you almost feel like a student who is attending private language lessons. The mixture of knowledge transfer, practice, speed fire exercises, comprehension challenges plus their extensive explanation, homework and valuable tips to continue your learning.
Our courses are designed to make you feel like you are learning Italian with a private tutor, in the comfort of your own home.

What are you waiting for?
Become an Italy Made Easy  member now and get infinite access to all of our courses, including From Zero To Italian, and the ever-increasing amount of Italian resources we offer. Your journey to Italian fluency starts here!
It will be the best decision that you've ever made!