Improve your Italian: speak with our Native Italian speakers
Taking the leap and speaking with an Italian in Italian for the first time can be a very daunting thought, especially if you are a beginner. Even if you've been learning Italian for a longer period of time, you may have not had many opportunities to really put what you know into practice.
The atmosphere is always casual and friendly, it allows you to practice your Italian speaking without feeling any pressure or embarrassment.
The chats are conducted in a one-on-one online setting – a video chat – just you and your Native Italian Chat Partner, so you can practice your Italian speaking in the privacy of your own home.
Our Native Italian Chat Partners are always kind and will make you feel at ease straightaway. They are patient, understanding and there to help you!
Using our chat service will allow you to break through the fear we all feel when we are learning another language.
All our Native Italian Chat Partners speak English as well, so this allows complete beginners to also make use of the chat service.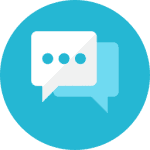 Our Native Italian Chat Partners can adapt any chat to suit your specific needs and level – they can help you improve your pronunciation, construct your first sentences, or even just to understand and pronounce single words.
Our Video Chats are available to all Academy students!
(optional service, fees apply)
The chats allow even people who feel they can't say very much to communicate something and you will always come away feeling a sense of achievement.
You will be able to learn idiomatic Italian phrases and expressions as they are naturally used in conversation.
You will be able to learn how to render common English expressions and idioms in Italian.
Our Native Italian Chat Partners all speak standard Italian but will adapt the pace of their speech to your level.
Chatting with our native Italians will give you a "window" into the Italian world – not only will you practice your Italian, but you can discover many new things about everyday Italian life and culture.
You will be able to learn and practice REAL spoken Italian as it is spoken by Italians.
You will gain so much more confidence in your ability to speak Italian at any level. Even realising that you are capable of forming sentences in Italian will give you the motivation you need to improve even more.
Our Video Chats are available to all Academy students!
(optional service, fees apply)
Meet our native italian speakers