If you are here, we know one thing: you are serious about being able to speak and understand Italian. Our mission is to
help you make it happen!
Not sure about your level?
Unlock your Italian potential with Italy Made Easy. 
Unlock your Italian potential with Italy Made Easy. 
Our Italian language courses get the job done. At Italy Made Easy we work hard to put together
most effective Italian language courses in the industry
 to benefit people like you, who have a true love for all things Italian and who have a dream to be able to communicate naturally and confidently in Italian.
If you've tried Apps and other magic tricks, five minute Youtube videos, listen and repeat methods, phrase books or even in-person courses or tutoring, chances are you have learned some useful things but the truth is… you know
you are not a confident speaker of Italian
. Yet! 
Trust us though: if you have tried Italian before and failed (or just didn't get too far), it was not your fault;
it was the method you used that

failed you

. 
We are certain
you can learn to communicate in Italian and be excellent at it
.
We have thousands of students who are a testament of that. And we are eager to add you to the list of committed people who we've helped become fluent in Italian.
And, if you are totally new to Italian, you'll be glad you found us now! This will save you years of frustrations and disappointment!
A different approach that yields results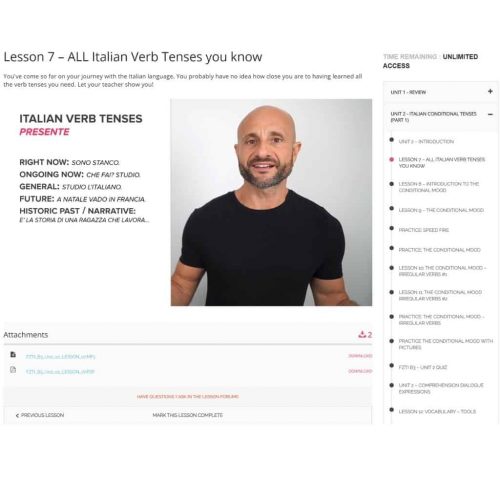 Our Courses are different. You are never treated like a child.
In fact, Manu's teaching method is based on comparative linguistics, a fancy way of saying that you are going to leverage your fluency in English to draw quick comparisons with Italian.
This makes you learn at a much faster pace compared to the methods that use Italian to teach Italian. 
Imagine learning how to read and write music, without a single explanation in a language that you fully understand, like… your native language! That's exactly what many students attempt to do with Italian and end up frustrated and defeated. Not on our watch! 
Our students get to speak and understand spoken Italian way before students of other methods because, with our courses, you learn to overcome the fear of speaking, empowered by your knowledge and confidence in how the Italian language works.
Students
LOVE
our courses!
Extra Strong Money Back Guarantee
-for complete peace of mind-
We are so confident in the efficacy of our courses and platform, that we can back them up with a
 14 Days, No-Questions-Asked, Full Refund Money Back Guarantee. 
Use any course, take lessons, ask questions in the forums… there are no restrictions on how much or how little you our platform. 
If you are not fully thrilled with the results you are getting, or simply never have the time to even start the course, we got your back. Just email us requesting a refund and we will honor it.
Frequently Asked Questions
Learning Italian With Italy Made Easy