Italian literature is full of phenomenal authors. With important written works such as the "Divina Commedia" and "I Promessi Sposi", you can imagine that there are many Italian authors, both historic and contemporary, that are worth reading.
But do we Italians actually like to read? The statistics say that we read a lot less than other Europeans. Why is that the case? Do older Italians read more than younger Italians?
Find all this out and more!
Italy Made Easy Podcast is a language learning tool, not just yet another podcast.
It is a great way for you to work on your Italian Listening and Comprehension skills.  
Don't just listen to this Episode as you would any other Podcast in your native language! 
You are here to improve your ability to speak and understand Italian, and you will if you use these resources strategically.
Below are clear and simple instructions on how you should use these learning materials.
▷ BEFORE LISTENING TO THIS PODCAST EPISODE:
Read the TRUE/FALSE questions below; they will help you focus on the main points you need to listen out for.
▷ LISTENING TO THE PODCAST:
Listen to the audio once. Don't focus on trying to understand every single word and sentence.
The aim is to get the overall meaning. What is Manu talking about?
Listen to it again and see if you can pick out the key words and find the answers to the questions as you listen.
Listen to the audio as many times as you need – the more you listen the more you will understand. Try and identify words that you don't know the meaning of and look them up.
The most important thing is that you

listen more than once

!
Get immediate access to this lesson's accompanying PDF with detailed Summary Notes & practice Exercises with answers! 
It's free!
Here are your TRUE/ FALSE Comprehension questions.
You will find the answers to these questions and even more questions in the Bonus PDF.
1. Gli italiani sono il popolo europeo che legge di più
Italians read the most out of all Europeans
2. In Italia leggono più gli anziani dei giovani
In Italy the eldery read more than the youth
3. Il genere letterario più amato dagli italiani è il fantasy
The most loved literary genre by Italians is fantasy
4. Manu da giovane amava leggere romanzi d'amore
Manu used to love reading romance novels when we was younger
5. Gli italiani amano i libri gialli
Italians love to read crime novels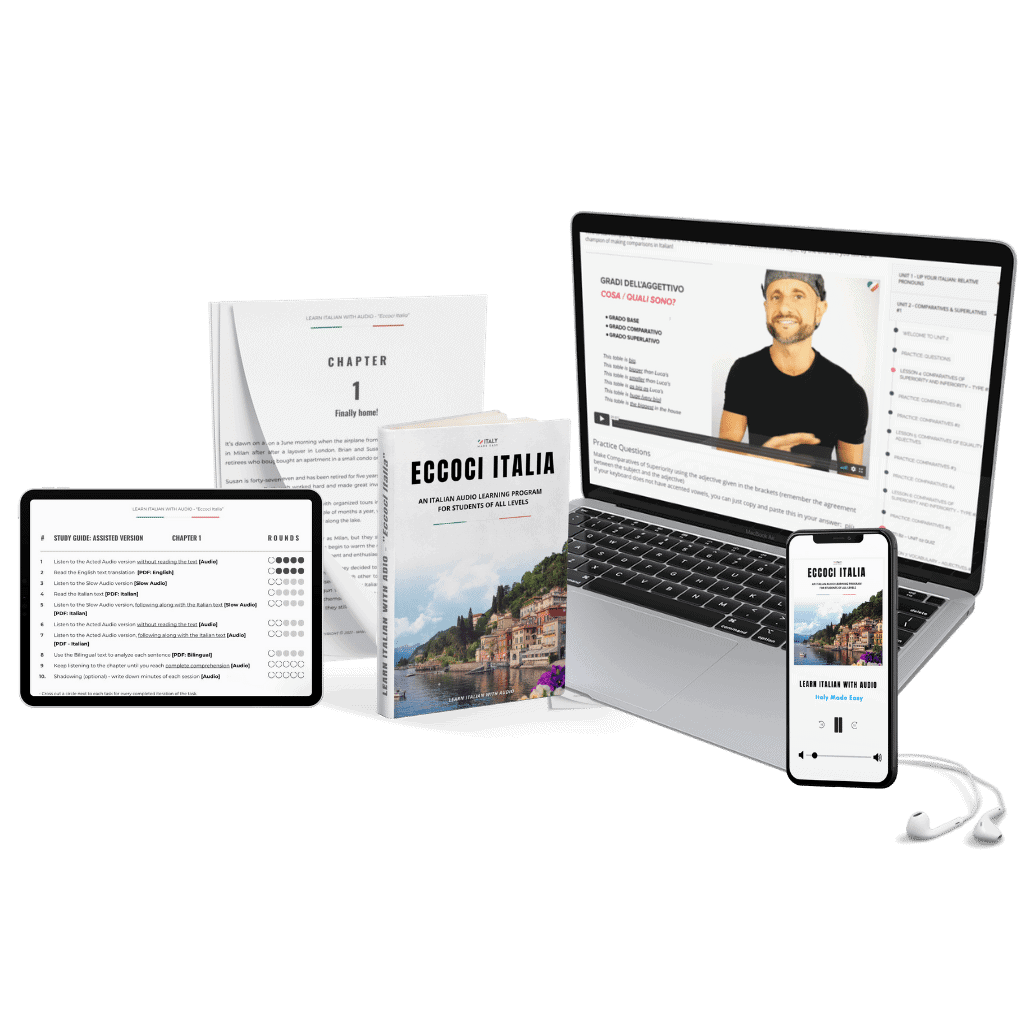 Understand spoken
Italian